Everything you need to know to get started with SIPPALS Services
Direct Inward Dialing (DID) is a service that provide a telephone numbers for calling into your company's telephony system. Using DID, we can offer individual phone numbers for each person or workstation within the company without requiring a physical line into your telephony system and for each possible connection. This way, telephony traffic can be split up and managed more easily.
What is IVR/Auto Attendant?
How to use discount voucher?
Hosted PBX phone system is a service provided online via internet. It allows to connect special internet phones (VoIP phones) and make/receive phone calls. Hosted PBX also allows configuration of call-flow features to route calls using predefined rules to the required user/extension. SIPPALS provides an extensive feature set free of charge, including popular features like time of day call routing, voicemail to email, call queues, follow me, voice menus and much more.
What is the meaning of hosted PBX?
How does a hosted PBX work?
How does hosted telephony work?
Do I need internet and how fast?
What happens if my internet goes down?
What is the quality like?
How do the call plans work?
Can I port my number in or out?
Can I use my landline phone with VoIP?
How does VoIP work for small business?
Is it possible to have more Voice Menu?
Is it possible to have more Ring Group ?
Is it possible to have more Queue ?
Does SIPPALS support Video Call?
SIP Trunk Frequently asked questions
A SIP trunk 
is the virtual version of an analog phone line. Using SIP trunks, a SIP provider can connect one, two, or twenty channels to your PBX, allowing you to make local, long distance, and international calls over the Internet. If you have an on-premises PBX in your office, a SIP trunk provider can connect to you and allow you to make outbound calls on your existing system, without restrictions on the number of concurrent calls.
How Many Concurrent Calls Can Be Made with SIP Trunking?
Do I need internet and how fast?
How much bandwidth do I need for SIP trunk?
What happens if my internet goes down?
What is the quality like?
How do the call plans work?
Can I change my SIP Trunk subscription plan?
Can I connect SIPPAL SIP Trunk to PABX?
SMS Frequently asked questions
SMS
is still a powerful and effective communication tools, SIPPALS provide SMS to Malaysia and worldwide destination. To send SMS
please login to user portal and from left menu select SMS.
on SMS panel click on New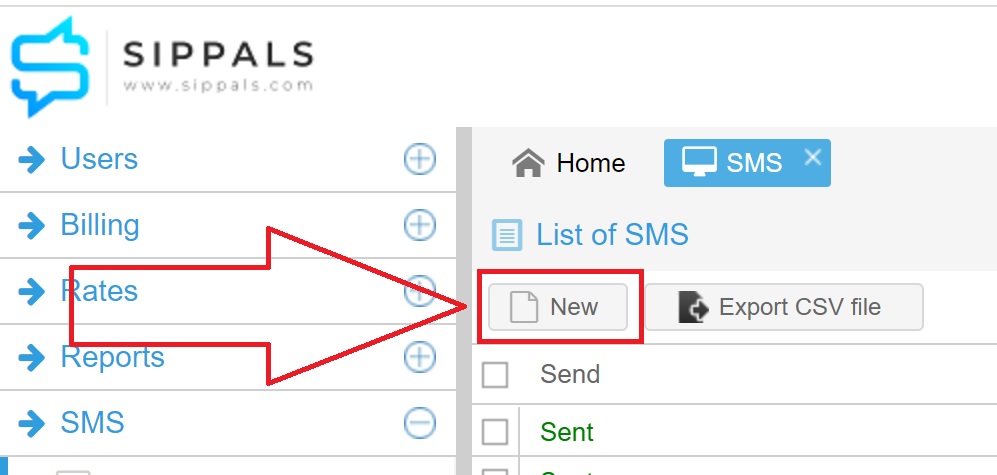 on next windows fill up the required field, all field are compulsory to be filled
Number: is your SMS destination with country code, do not include + or 00 in front
SMS: is the text message which you are going to send, maximum charachter which can be send is 140 charachters including space
From: please put your name/company name or brand here. Please note you are not allowed to put international brands (Like Apple, Google, Paypal, etc) name for this field otherwise your account would be charged RM10 per such SMS and if repeated your account would be suspended. From length yould be between 4 to 10 charachters.
Once all field being filled click on Save to send your SMS
How to use SIPPALS SMS API?
Are you ready to get your cloud phone system?