Modern Telephony System on Cloud
Work from anywhere, Enjoy advance phone features and save cost of operation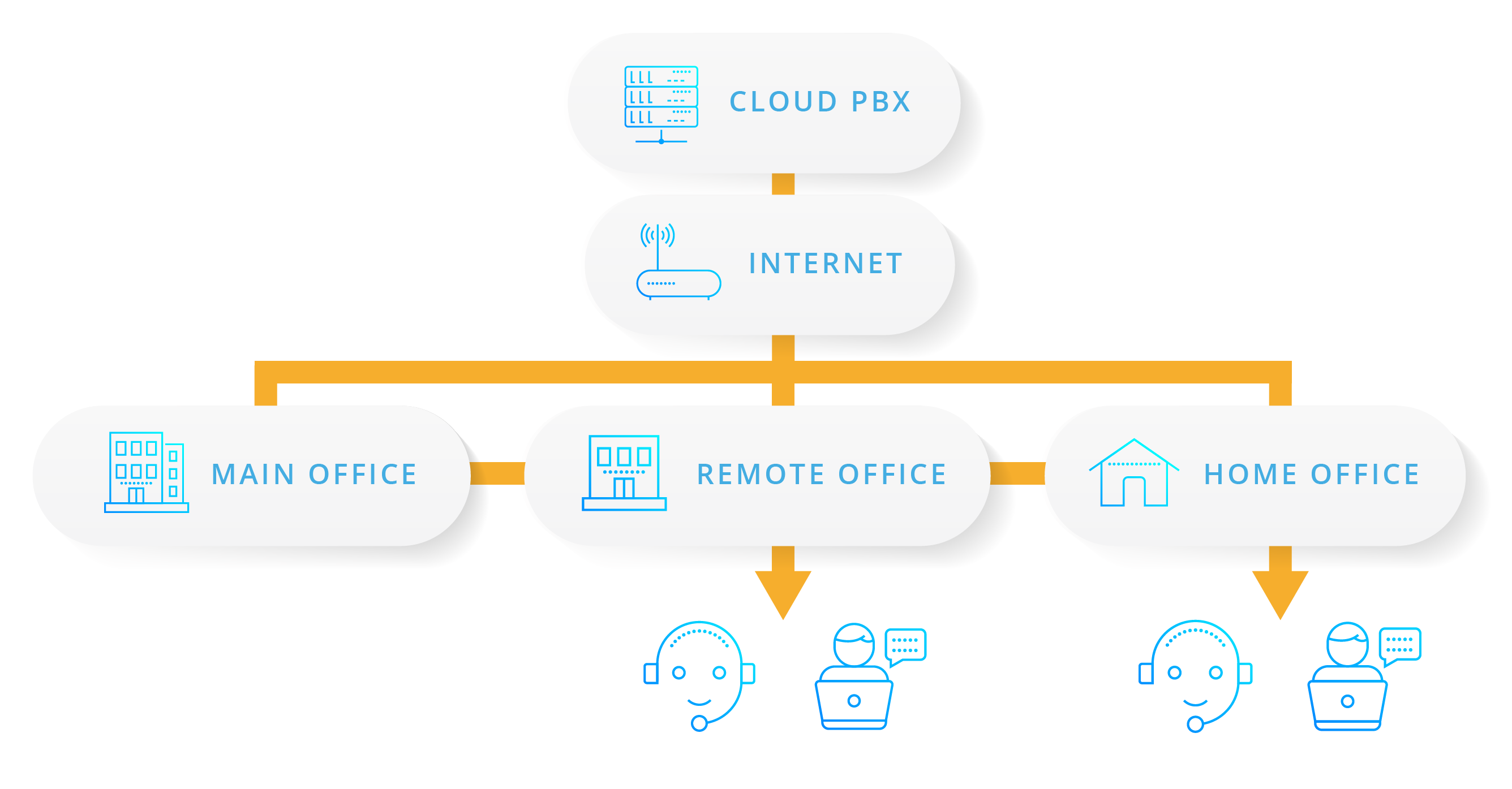 Your business phone system in the cloud
'Hosted PBX' is used to describe a phone system that is hosted in the cloud (or Internet) and works via VoIP (Voice Over Internet Protocol).
Some benefits of Hosted PBX include being location independent, not needing equipment, and being easy to manage. Add and remove phones when required, with minimal configuration. Hosted PBX offers a significantly richer feature set compared to older on-premise deployments.
Queue
If you are unable to pickup a call immediately the call can be placed in a queue with your customised music on hold.
Call Transfer
Easily transfer calls using either short extension numbers or full telephone numbers. Calls can also be transferred externally to any other telephone number.
Internal number
Each user in the system will be assigned short 4 digit number. You can call each other within the cloud PBX using short numbers.
Call diversion
You can divert calls to any other number, or configure simultaneous ring to multiple external numbers (e.g. your mobile and your business partner mobile would both ring).
Ring group
Ring group allows you to set a number of users on your hosted PBX to ring simultaneously. e.g. You can have a ring group for the sales department. Each phone in the department will ring when this group is called.
Music On Hold
Have your clients listen to music when they are put on hold or even a promotional recording. This is a great way to make your small business look bigger while at the same time advertise your products and services.
User performance reports
See who answers or makes the most calls, call duration, missed calls and more.
Custom caller ID
You can select what caller ID to show when making outbound calls for any User in the system. Any callerID can be used, as long as we can verify the ownership of such callerID.
Voice menu
Interactive Voice Response (IVR) menu provides callers with a greeting and number of interactive options which allows them to be directed to the appropriate department, person or information (e.g. press 1 for sales, 2 for support...).
Voicemail to email
Any message that is left on your voicemail can be sent to you by email so you can listen to it from anywhere easily.
Inter-Branch Connectivity
Make unlimitted free calls between all branched under our service. Each Branch could maintain separate billing and account management.
Our Hosted PBX plan is giving what you need and the price reduce when you have more users
* Price are based on annually payment plan, click here if you need other options.
Starter
From RM

10
/ Month per user
from one user
One Extension per user
One Malaysia Phone Number
Voicemail
One Voice Menu (IVR)
Minimum 10 users
Everything in Starter
Lower monthly fee
One Ring Group
One Queue setup
Minimum 25 users
Everything in Starter Plus
Lower monthly fee
One additional Malaysia phone number
One additional IVR
Have special requirements?
Let us help you with what suit your needs
Hosted PBX Frequently asked questions
Chat with us or call us on (03) 2779 0755 to speak with one of our friendly staff.
Hosted PBX phone system is a service provided online via internet. It allows to connect special internet phones (VoIP phones) and make/receive phone calls. Hosted PBX also allows configuration of call-flow features to route calls using predefined rules to the required user/extension. SIPPALS provides an extensive feature set free of charge, including popular features like time of day call routing, voicemail to email, call queues, follow me, voice menus and much more.
What is the meaning of hosted PBX?
How does a hosted PBX work?
How does hosted telephony work?
Do I need internet and how fast?
What happens if my internet goes down?
What is the quality like?
How do the call plans work?
Can I port my number in or out?
Can I use my landline phone with VoIP?
How does VoIP work for small business?
Is it possible to have more Voice Menu?
Is it possible to have more Ring Group ?
Is it possible to have more Queue ?
Does SIPPALS support Video Call?
Are you ready to get your cloud phone system?